Integrated Process for Triage, Authorizations & UR
DataCare's UR++ claims software tool empowers claims or specialized professionals to quickly track and process all incoming requests with increased efficiency and compliance.
The UR++ is a tool that streamlines the flow for Request-for-Authorization's, allowing triage, objections, automatic adjudication and approval or electronic submission to UR. Every step of the process is monitored and tracked, and all pertinent documentation is generated and sent to stakeholders.
Visit the Utilization Review module for more details on the UR workflow.

Process claims in as little as 3 steps!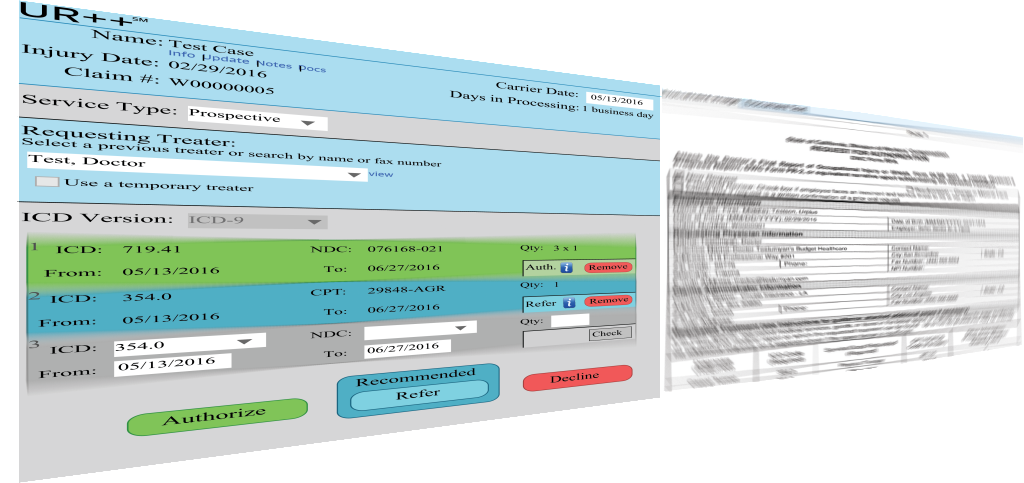 Productivity & Visibility
With UR++, claims adjusters can quickly make treatment authorizations.

Audit approval reports can be generated within minutes.

Also incorporates DataCare's OCR (Optical Character Recognition) technology to save time while searching within documents.

SaaS (Software-as-a-Service) model eliminates the need to install software or hardware.

DataCare has wide experience integrating with claims, bill review, and internal client systems enabling real-time data exchange.
Why should you work with our UR++ claims software tool?
DataCare's UR++ claims software tool provides users an efficient workflow for tracking and processing incoming Request-for-Authorizations (RFA's), while providing a reliable network backed by SOC 2 Certification.